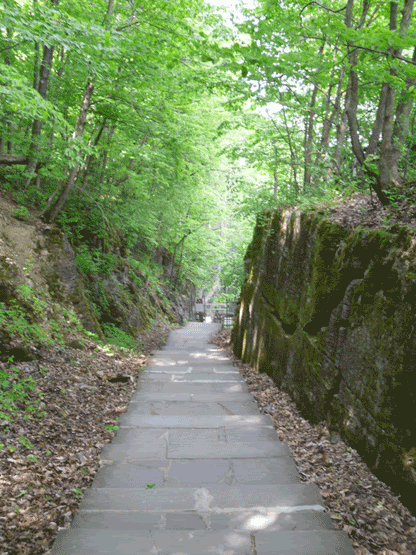 So, after completing the return trip to Clarksville Caves, we needed something else to do to fill out the afternoon. Fortunately, the gentleman who was a representative of the Northeastern Cave Conservancy was also very familiar with the area's attractions of the outdoor type (my personal favourite), and he recommended that we go to the John Boyd Thacher State Park which was only twenty minutes away.
The predominant feature of the park is a huge ledge of limestone sitting on top of the local shales, surrounded by dense forests, waterfalls, and decent vistas of the Adirondack Mountains and the Green Mountains of Vermont. The views below are incredible, and in the distance it is possible to see the city of Albany, the state capital of New York.
He recommended to us the "Indian Ladder" trail, a trail that takes you along the bottom of the ledge. Named for the fact that the local Native Americans used to cut down trees, and then climb up them like a ladder, it is one of the most fossil rich areas in the world.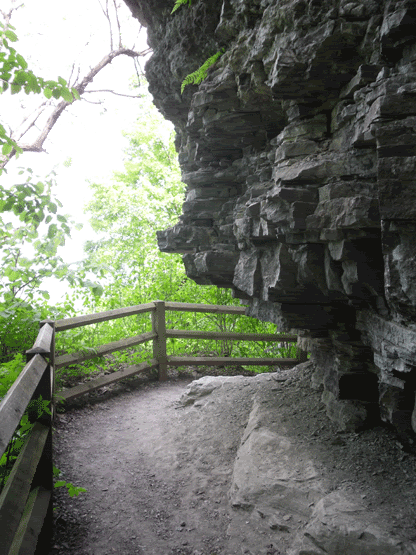 After the incredible drive to the Visitor Centre, we headed down to the trailhead where fortunately we were not forced to climb up and down trees as ladders as there is a modern, and very easy trail. Taking a close look at the Helderberg Limestones, you can easily spot the fossil remains of chrinoids and brachiopods.
Dotted all along this trail are numerous springs issuing from crack in the rock. The area's unique geology has provided the right coniditions for the development of caves and underground springs, many of which issue from this rock. However, long the way are numerous signs asking people not to climb on the rocks, mostly to safeguard them from getting injured on the way into the caves.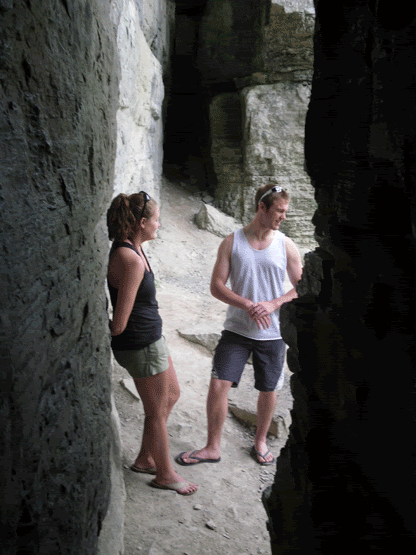 Along the trail are two waterfalls that cascade over the trail, however there was a mere trickle on our trip as there hadn't been much rain (until after we left).
The hike itself on the Indian Ladder is very short, less than half a mile, but this would be a good place for families or fossil-heads to visist, just please do not collect the fossils. For more information, please visit:
the John Thacher State Park website
. There you can also find a really decent map showing you the other trails. It is also the ending point for the Long Path, a trail that extends from New Jersey all the way into the Albany area.